Bodie Bluff Consolidation Mining Co.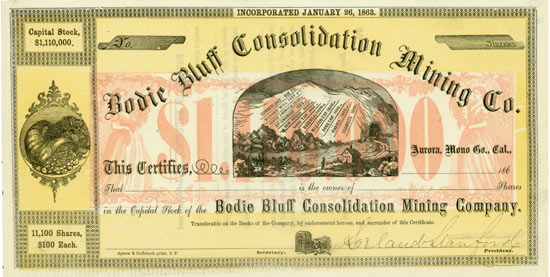 Description

Aurora, California, 1863, unissued certificate for Shares of US-$ 100, original signature of Leland Stanford.

Business

Mining/Coal/Mines/Gold

Assignment

North America

Country

United States

Rarity Code

8

Last Price

€700.00
History
The stock certificate is one of the few American securities of the period before 1870 to be printed in several colors. Leland Stanford (1824-18793) later endowed with a portion of his great fortune Stanford University, named after him, which is still one of the most important universities in the USA. Bodie Bluff was the first, though not the most successful, investment by Stanford. The mine lay near Mono Lake, on the eastern side of the Sierra Nevada mountains. The company was later absorbed in the Empire Co. of New York. Only in 1878, when Stanford had already become rich through his railway enterprises, was a productive vein of ore discovered.